Food Cart Websites shouldn't be difficult to keep up to date.   When food carts are together in a pod it can make for great collaborative marketing opportunities.  Search Engine Optimization, Online Ordering and Delivery can be done through a single website.  Menu, Open Hours and Payment are all done independently by each food cart.   The Food Cart pod operator can then  advertise all carts on one website without having to manage a thing! 
One Website Advertises All Food Carts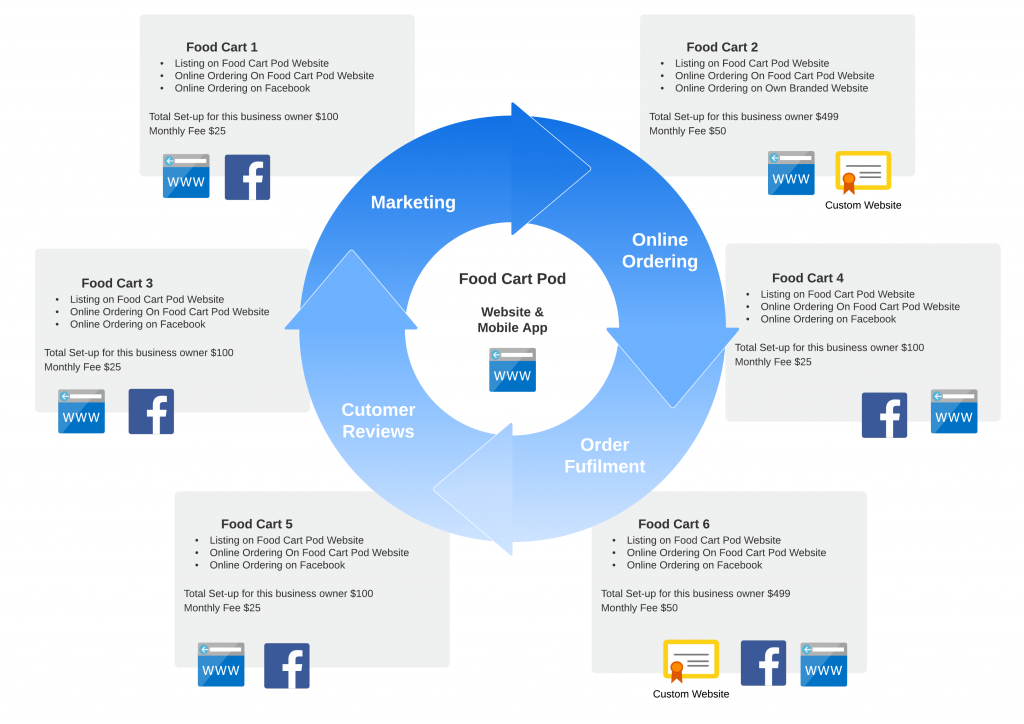 Each Cart Operator Manages their own Menu, Open Hours and Ordering Options. 
Each Food Cart Only Pays $25 for Online Ordering & a Website Listing  
(If each food cart signed up separately it would cost them $99)
Save your food cart operators money & increasing their sales opportunities! 
What's the Catch?  You need 6 paying food carts and you need to bill them and pay us the monthly fee.   You paying us will help offset the cost savings we give your food carts.    
What if i don have 6 carts in my pod? 
You can still sign up but the minimum monthly fee you pay is $150. 
Set-up fee for each Food Cart is $100 plus the Online Ordering hardware cost of $299.  
Extras:
Online Ordering App can be placed on each Food Carts own Facebook page for Free! 
Each Food Cart can upgrade to their own website with their own domain name using the same dashboard for the hours, menu and online ordering.  Same time and ensure accuracy across multiple sales channels.  Set-Up and Design Fee is only $499 and monthly fee is $25.
Any of our pick-3 add-ons can be purchased by any food cart for only $25! 
Food Cart Operator can add our Mobile App for $199 set-up and $25 per month.   
Add Text Messaging to allow guests to text to get instant access to you mobile app (i.e; Text "TryFoodCarts" to the number "313131") only $25 per month no upfront fees.   
Get Started
Let us answer your questions
Call now to get a personal consultation about how Diner Dashboard will help your business. 
503-201-7219